I needed a new stove for my solo rig, so I decided to make another pot stove. I made one about 10 years ago, documented on the lamented WinterTrekking site, but that one is made from a 25 L pot and I needed a smaller one. The original pot stove has been great: lots of heat output, especially since I added a baffle, no rust and no warping.
Started with this: a 6.8 L black enamel steel canning pot with a domed lid. The lid will form the bottom of the stove.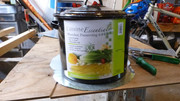 Hole cut and 3" chimney port riveted in. I am using 3" galvanized duct, available at any building store, as chimney.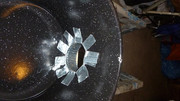 ​
Pattern for the baffle. The shape is complex because the baffle needs a step to fit the chimney port. The baffle is about 5 cm beneath the top of the stove, but the chimney port is close to 8 cm, requiring more space.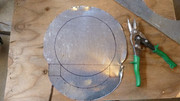 ​
Finished baffle with tabs bent in. This is what you would see if the top of the stove was transparent. I made the baffle hole in this shape thinking that it would distribute the heat more evenly. This hole should have about the same area as the chimney pipe.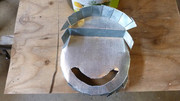 Finished door. I used a vertical sliding door because it gives a tight fit and allows adjustable ventilation low in the stove which makes for a hot and healthy fire. The door is the piece I cut out, which has a handy handle. The rails are folded from galvanized roof flashing.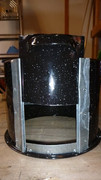 ​
First burn, outside to burn off any zinc fumes from the chimney. Legs are made from an old folding chair.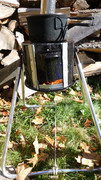 Stove in the tent.
​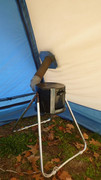 Tent with chimney.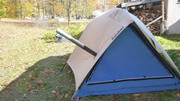 ​
The stove weights 1200 g. The full rig including stove, elbow, stove pipe and legs totals 2.9 kg.
I am very happy with this stove. It burns well, throws a lot of heat and has a very hot cook top. With the baffle it produces no chimney sparks. The pot cost about $25 CAD. They seem to last a long time and don't rust. Even the paint holds up.
Some of the design for this stove was borrowed from Chimpac, a regular on the old WinterTrekking site. I used one of his stoves for years in this tent. It works very well, but I wanted something a little bigger (it was made from a 1 gal paint can).
Looking forward to the snow!
Kinguq.